MUPU FARMS FRESH CUT CHRISTMAS TREES IS LOCATED IN BEAUTIFUL SANTA PAULA, CALIFORNIA. WE SPECIALIZE IN CUSTOMER SERVICE AND QUALITY FRESH HANDPICKED NOBLE FIRS, DOUGLAS FIRS AND OTHER VARIETIES OF FIR TREES. WE ARE 30 MINUTES WEST OF HIGHWAY 5 OFF HIGHWAY 126 AND 15 MINUTES EAST OF VENTURA. WE ARE CLOSE TO LOS ANGELES, SANTA BARBARA AREAS. WE HAVE BEEN IN BUSINESS SINCE 1993. WE TAKE CHECKS OR CASH and SQUARE (WITH AN FEE)...
Mike and I want to thank all of our customers, new and old, for supporting our small, sweet tree lot this 2021 Christmas season! Our privately owned tree lot, run by Mike (a full-time teacher) and me (a retired law enforcement crime analyst) hope you all have a beautiful Christmas with those you love!
2021 TREE SEASON--COME EARLY AS TREE SELECTIONS ARE SMALLER DUE TO TREE SHORTAGES/RAINFALL DECLINES/FIRES IN THE NORTHWEST AREA. SEE OUR FACEBOOK PAGE FOR MORE INFORMATION. (http://www.facebook.com/mupufarmschristmastrees/
LOOKING FORWARD TO ANOTHER CHRISTMAS SEASON, PROVIDING BEAUTIFUL FRESH CUT NOBLE AND DOUGLAS FIR TREES FROM OREGON!!! YAY!!!
Feel free to give us a call at (805) 625-0018 with any questions.

Our freshly cut fir trees are harvested only a few days before they are shipped to our Farm where we take tender loving care of them before they are ready for you to pick and take home.

Get away from the hustle and bustle of paved parking lots, experience the sounds and smells of a true Old Fashioned Christmas in the country. Mupu Farms has a unique setting away from the usual tree lots. *Due to Covid we will not be able to offer complimentary hot beverage* but hope to have warm fire going with distant sitting around the campfire. We have chickens, pigmy goats and farm friendly cats.
Our regular hours are Mon - Fri 11:30 to 7:00 pm, Saturdays 10:00 am to 7:00 pm, Sundays 11:00 am to 6:00 pm. (HOURS MAY CHANGE PLEASE CHECK OUR FACEBOOK PAGE) We take CHECK, CASH AND NOW CREDIT CARDS (with an added fee)...
Mupu Farms are proud that all our fresh cut Oregon trees are "SERF" certified--"Certified Responsible Farming Practices" THE ONLY SELLER IN VENTURA COUNTY see below...who sells these trees from Responsible Growers. See details at http://www.nwchristmastrees.org/resources/serf-certification/
We look forward to seeing you this 2021 Christmas!!!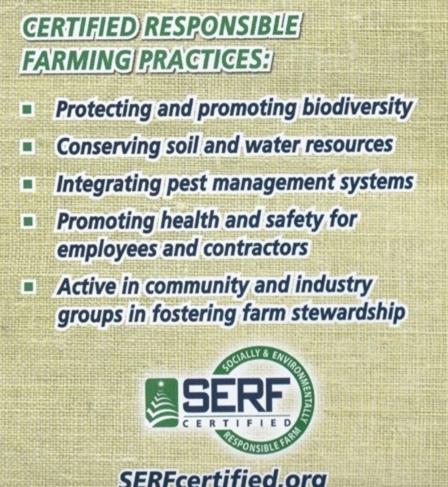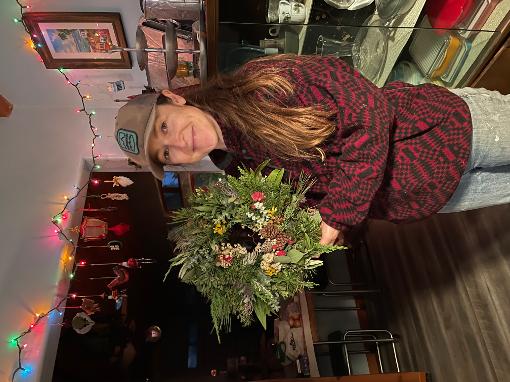 Check Mupu Farms on Facebook for upcoming events--
We are having wreath making classes too! Check out our Facebook for info--https://www.facebook.com/mupufarmschristmastrees/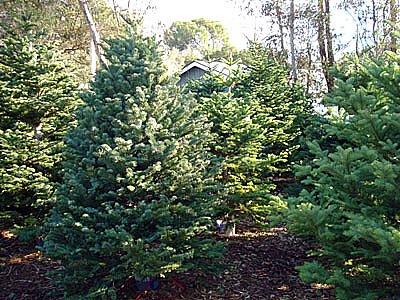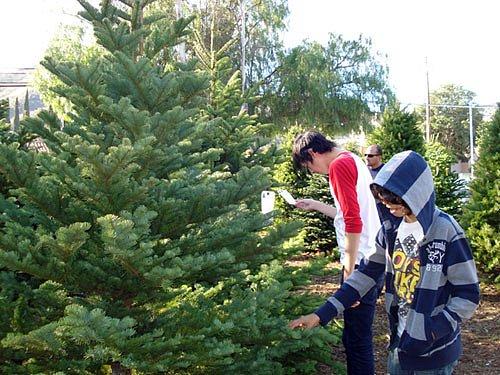 Mike and Karen Karayan operate this family business and have been selling trees here since 1996 and appreciate your business. We have many customers returning to our lot year after year and have watched many children grown up through the years...love seeing these families.